Choice Coffee, Brunch Bites, and Smooth Shakes – The Busy Bean
It's 6 am on a Monday morning in southern Virginia, and the summer sun is just about to rise, giving the signal for the start of a new day. While many are still snuggled warmly in their beds, some mothers and fathers are waking up and beginning their morning routines of getting children up for school. Across the county, farmers are completing their first hour of work before the day warms up. However, in the beautiful country town of South Boston, down on Wilborne Avenue, the lights are being turned on in a cozy, vibrant, favorite local coffee shop known as The Busy Bean.
Through the Window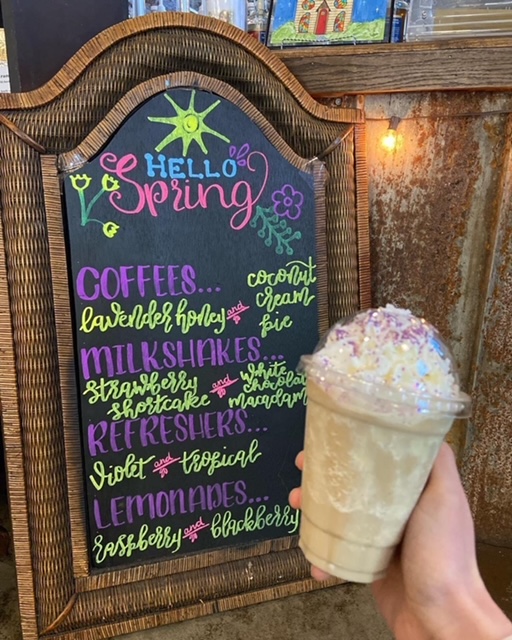 Once you visit The Busy Bean, I am sure it will not be your last time. Upon arriving at the front door, patrons are greeted by open bay windows that allow a peek inside at the eclectic style of artistic paintings and charming decor. Once they open the door, visitors notice that this glamor extends throughout the entire room as they inhale the scent of brisk coffee aromas. Approaching the counter, customers are treated to the sight of unique pieces of artwork, home decor, and designs for purchase. To the left are members of the community sitting at tables or on couches, enjoying their beverage and food choices. Just before reaching the welcoming associate to place an order, customers get a glimpse of the weekly dessert options that shimmer through the glass casing. These treats include slices of chocolate or strawberry cake, large lemon bars, and buttery chocolate chip scones. They get me every time!
Lattes, Macchiatos, and Cappuccinos – Oh My!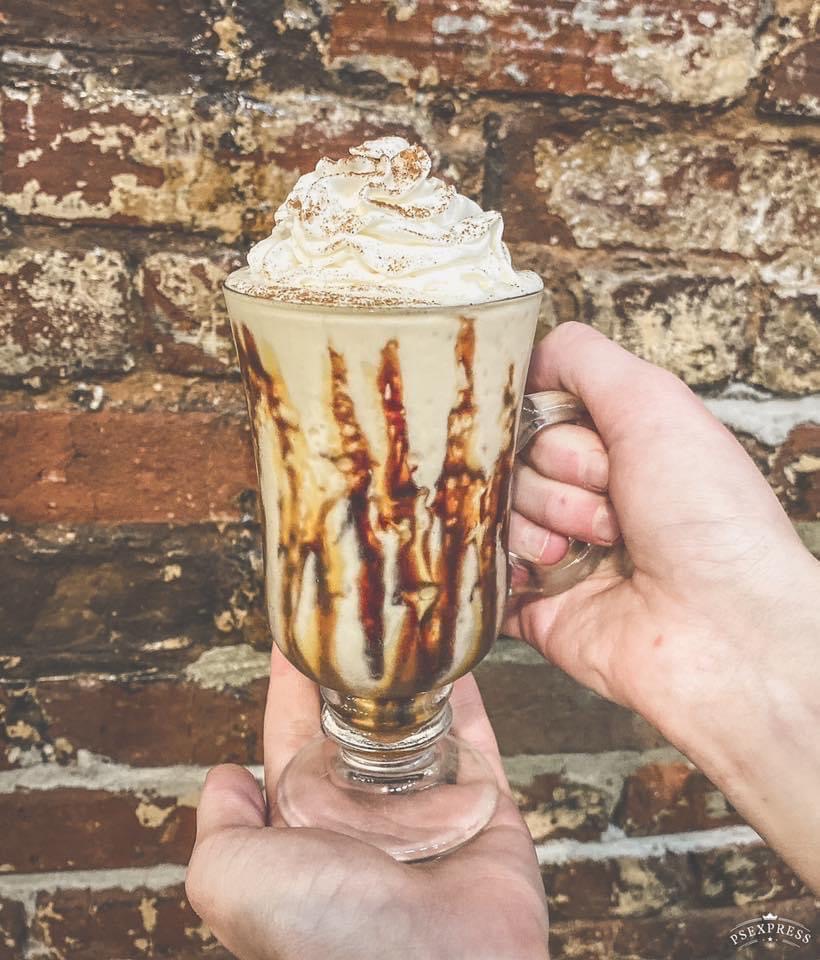 One of the reasons The Busy Bean is popular in South Boston and surrounding communities is because of the distinctive assortment of beverages on offer. My friend loves to order fresh coffee beans including Colombian, Espresso, Italian, Ethiopian, or Peaberry. On many occasions when we meet up to connect and share laughs, she will order her favorite, cinnamon roll latte. She describes it as sweet, foamy, and just the right amount of spice. In conversations, other colleagues have shared their absolute must-have drinks, including the chocolate raspberry macchiato, coconut cream pie coffee, iced white chocolate macchiato, and the turtle frappe. Each one is made with skill and care.
On various occasions when placing my order, I have asked the baristas and associates who are hard at work what their favorite drinks are, and they respond that it changes because they are always offering new flavor combinations. Not only do we agree, but we share common delights in their brunch offerings, from warm sandwiches and wraps to soups and fresh salads. The Busy Bean is the ideal local spot to stop and partake in a pleasing light brunch and fulfilling beverage.
It's Not Just Coffee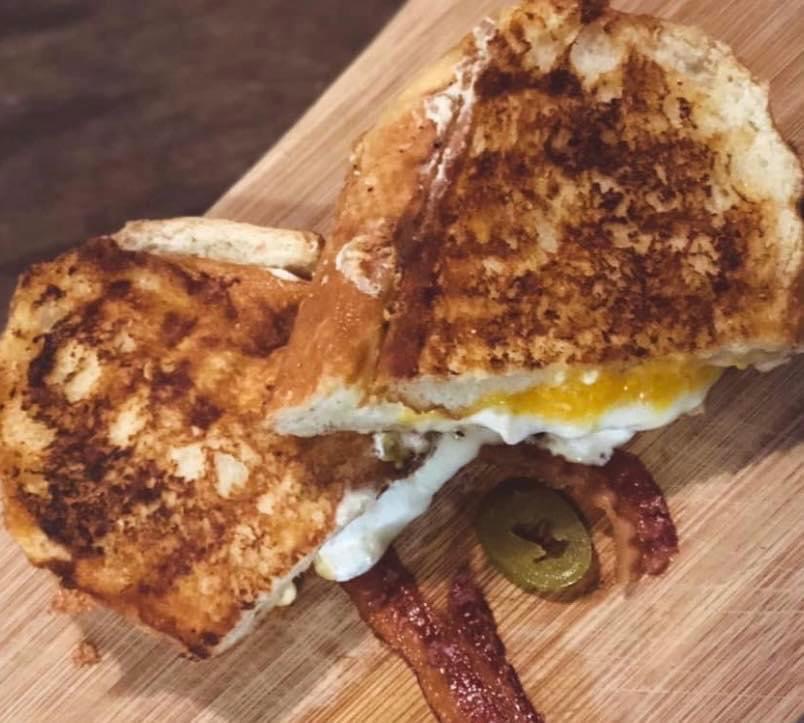 For those like me – who are not coffee drinkers but love the smell of freshly brewed coffee – The Busy Bean offers other delights. My preferred beverage selection is always tea, and The Busy Bean does not disappoint. My favorites include the citrus hibiscus, Earl Grey, and African rose. Each one is satisfying and selected based on my feeling for the day. If it is close to lunch time, I order a specialty lemonade like lavender or mango. Two of my go-to ounces of tasteful bliss. This was the first restaurant location where I tasted lavender in a beverage, and I am so glad I did.
The Busy Bean has also earned a reputation in the community for its notable milkshakes. Children and adults love them and over 20 flavors are offered, from cookies-and-cream to key lime to strawberry shortcake. During certain seasons, the shop provides temporary delights such as the bunny hop shake, which was offered during the spring, and the Yuletide praline shake that highlights the spices of the fall. No matter the flavor of choice, The Busy Bean is sure to have an offering that suits anyone's palate. It is thrilling to see which new flavor will come next.
Stop, Get Cozy, & Enjoy the Break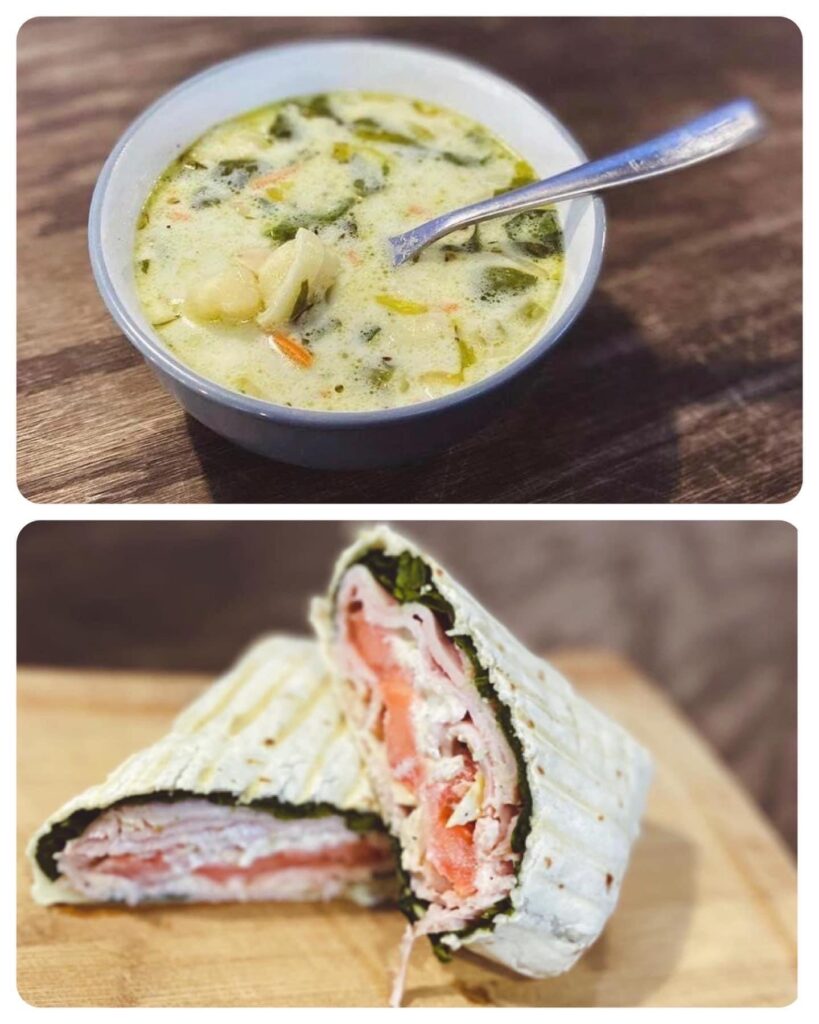 At The Busy Bean, faithful customers arrive to order their favorite caffeine-filled drink while new customers who have just heard about the latest trending cup of coffee or shake stop in to take their first sips. Friends and family members share events of the day and strengthen their bonds. Local business owners and organizations support our local coffee shop by scheduling meetings within the walls of this intimate establishment. Corporate associates gather at brunch to enjoy delightful sandwiches and wraps that will energize them for the remainder of the day.
In addition to providing exceptional beverage and brunch options, The Busy Bean gives back to the community by opening its doors outside of operating hours for people in the community to host various events. Last year, I had the privilege of hosting a book signing for one of my books. The ambiance created by The Busy Bean was ideal for sharing my poetry and introducing the coffee shop to loved ones who may not have visited before. I welcomed the community to the event and received numerous compliments from guests who said this was the perfect place due to the warmth, relaxation, and easygoing atmosphere.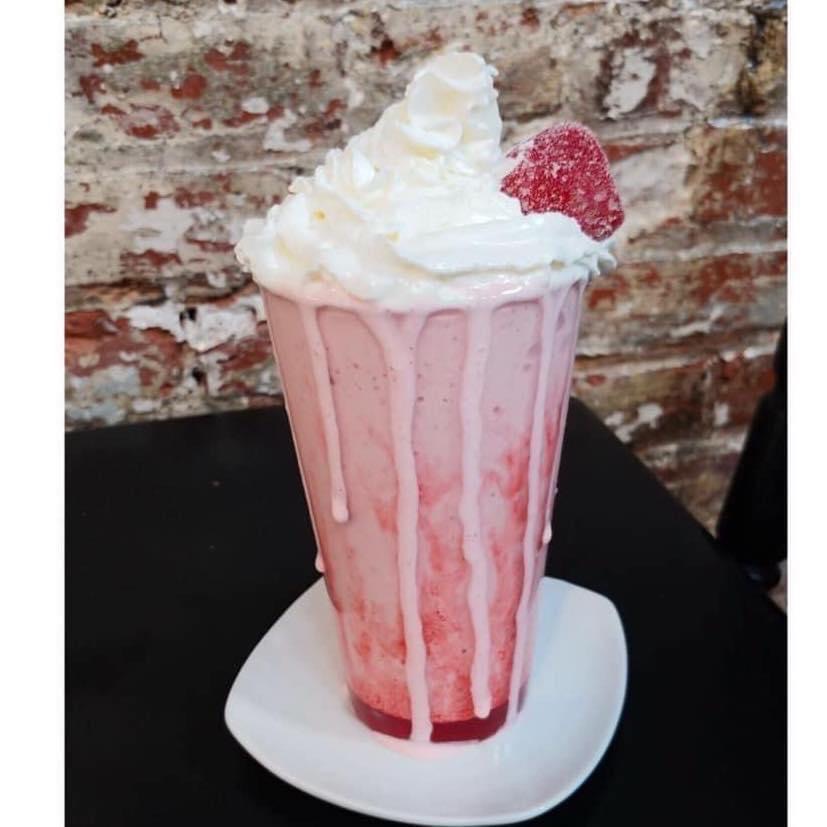 The Busy Bean also hosts paint-and-stay for lunch events and other opportunities that support community engagement.
In my opinion, The Busy Bean is not just a coffee shop but an experience that brings to life its motto, "Good eats. Quality drinks." So, whether it's sitting outside on the patio on a warm summer afternoon or reading inside on the couch while sipping a drink, come by and experience the words on the menu board – "May all who enter as guests, leave as friends."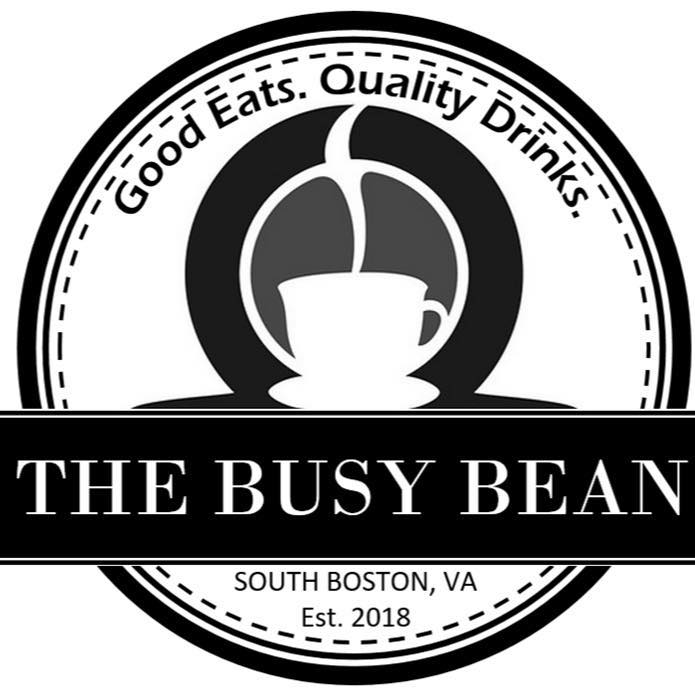 530 Wilborn Ave
South Boston, VA 24592
(434) 272-2365
@TheBusyBeanCo
Learn about the author at https://ncvamedia.com/authors/deelynn-leigh/